'Intruder Bee'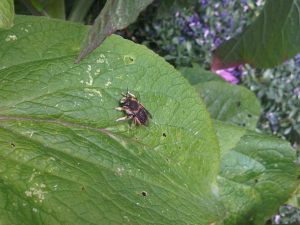 Observation - 'Intruder Bee'. Description: Sitting in my garden this morning watching the bumble bees in the foxgloves when I became aware of a 'different' kind of bee which I first took to be some form of hoverfly ... because it was hovering! However it then settled on a foxglove leaf and proceed
Sitting in my garden this morning watching the bumble bees in the foxgloves when I became aware of a 'different' kind of bee which I first took to be some form of hoverfly ... because it was hovering! However it then settled on a foxglove leaf and proceeded to attack and drive off any further bumble bees trying to enter the foxglove flowers.
Basically, it was smaller than your average bumble bee, with lighter colours to the head, legs and body parts - the photo was taken with my mobile which was all I had to hand.
Anyone any idea as to this bully's identity?!