New Zealand Daisy Bush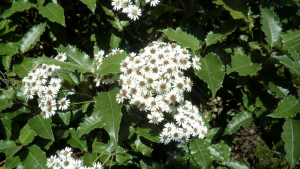 Observation - New Zealand Daisy Bush - UK and Ireland. Description: Spotted this white flowering bush while walking on the tops. I thought I might find some butterflies there so headed for it then realised I had no idea what it was. A holly bush with daisy like flowers (and no butterflies). Popped daisy flowers holly le
Spotted this white flowering bush while walking on the tops. I thought I might find some butterflies there so headed for it then realised I had no idea what it was. A holly bush with daisy like flowers (and no butterflies).
Popped daisy flowers holly leaves into google images and this is what came up.
Supposedly a seaside plant but I'm very far from the sea.
Main navigation