Indian Horse Chestnut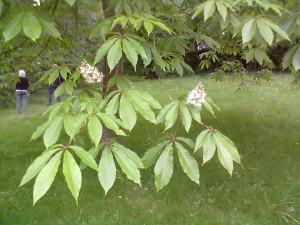 Observation - Indian Horse Chestnut - UK and Ireland. Description: Horse Chestnut - but not as we know it! I thought the red petioles were a bit unusual, and on looking more closely, you can see that each leaflet (some have 5, some 7, some 9) is individually stalked, and they have a slightly more refined shape than the f
Horse Chestnut - but not as we know it! I thought the red petioles were a bit unusual, and on looking more closely, you can see that each leaflet (some have 5, some 7, some 9) is individually stalked, and they have a slightly more refined shape than the familiar tree.

This tree is quite young, but the bark already has a nasty-looking vertical split.

Otherwise the flowers look similar to "normal" Horse Chestnut, being mostly white, but some were red-splashed on the upper petals, some were yellow.
Main navigation