Small Moth with very long antennae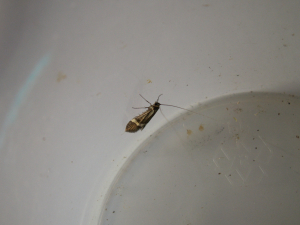 Observation - Small Moth with very long antennae. Description: Found four of these in mid air displays, managed to catch this one. The Moth is mostly dusty brown with a cream strip horizontally across the lower part of the two wings, and a vertical cream strip (like a brush stroke) along the two wings. Edge of wing
Found four of these in mid air displays, managed to catch this one.
The Moth is mostly dusty brown with a cream strip horizontally across the lower part of the two wings, and a vertical cream strip (like a brush stroke) along the two wings.
Edge of wings feathered. Extremely long antennae (about 5cm) while moth is about 1cm long.