Distorted Geranium petals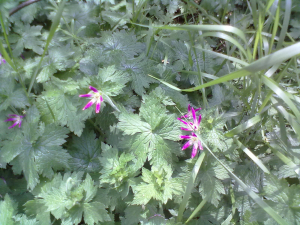 Observation - Distorted Geranium petals - UK and Ireland. Description: Some years this happens: out of a large swathe of gone-to-the-wild geraniums, a section of them come up with strange rolled petals, changing the density of the colour entirely, and making them look very different from normal. As far as we know, there
Some years this happens: out of a large swathe of gone-to-the-wild geraniums, a section of them come up with strange rolled petals, changing the density of the colour entirely, and making them look very different from normal.

As far as we know, there are no environmental causes for this: we have not sprayed any part of the area, and it does not happen every year.

Interesting, though, I thought?

Apologies for the poor picture and lack of good close-up: photos taken in a rush.
Main navigation