Vetch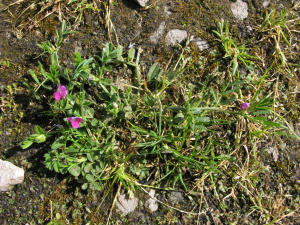 Observation - Vetch - UK and Ireland. Description: Small compact prostrate vetch with heterophyllous, mostly tetrajugate, leaves, and smallish more or less concolorous solitary flowers. Looks fairly close to the line between Vicia sativa and Vicia lathyroides, but with at least some t
Small compact prostrate vetch with heterophyllous, mostly tetrajugate, leaves, and smallish more or less concolorous solitary flowers.

Looks fairly close to the line between Vicia sativa and Vicia lathyroides, but with at least some tendrils compound, and I assume rather too late-flowering for the latter.

Growing in gravel path around a fishing pond in/adjacent to country park.
Main navigation