Shiny striped beetle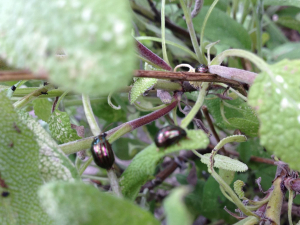 Observation - Shiny striped beetle. Description: Ladybird sized shiny beetle with stripes. Never seen before but this year Sage in my garden has been infested with them. Not a problem (I have enough Sage to share). I have just this year removed an overgrown lavender bush from beside this sage plant
Ladybird sized shiny beetle with stripes. Never seen before but this year Sage in my garden has been infested with them. Not a problem (I have enough Sage to share).

I have just this year removed an overgrown lavender bush from beside this sage plant.

Anyone know if they might be harmful to other plants?