Early Gentian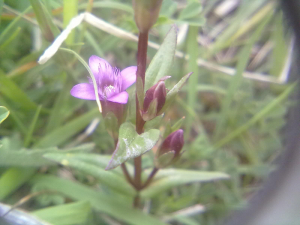 Observation - Early Gentian - UK and Ireland. Description: Confirmed by expert botanists in the surveying group: very small plant, purple flowers (so much for Gentian Blue!) only just opening, very late this year. Fringe of hairs clearly visible within the flower: Rose describes these as white hairs but to m
Confirmed by expert botanists in the surveying group: very small plant, purple flowers (so much for Gentian Blue!) only just opening, very late this year.

Fringe of hairs clearly visible within the flower: Rose describes these as "white hairs" but to me they appeared to be the same colour as the four, back-folded petals.

Stem leaves pointed, stalkless, and held out sideways from the stem, with flowers springing from leaf axils.
Main navigation