Green Dock Beetle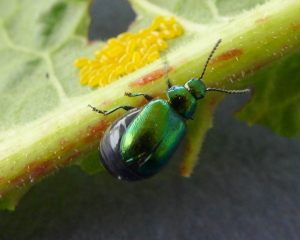 Observation - Green Dock Beetle - UK and Ireland. Description: I am watching them closely just now, seemingly always pregnant (every other one of course) and, whilst still prolific on Dock, they have taken to Rhubarb really well. I wonder if any old big leaf will do. I notice too that males play dead for a lot longe
I am watching them closely just now, seemingly always pregnant (every other one of course) and, whilst still prolific on Dock, they have taken to Rhubarb really well. I wonder if any old big leaf will do.
I notice too that males play dead for a lot longer but are, of course, no less elegant and quite a bit slimmer!
Easy photo-subjects; so, does anyone else have Green Rhubarb Beetle?
Main navigation