Marine egg trail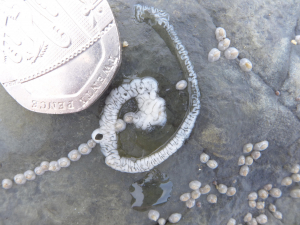 Observation - Marine egg trail - UK and Ireland. Description: Looking like a Nudebranch caught short but this might be a distinct species pattern. An amazing interlocking form. Picture two is as enlarged as I can make it - TWENTY is 9mm. Picture three is of a nearby but different batch; probably the same origin as
Looking like a Nudebranch caught short but this might be a distinct species pattern. An amazing interlocking form.
Picture two is as enlarged as I can make it - TWENTY is 9mm.
Picture three is of a nearby but different batch; probably the same origin as four but 'looser'.
Picture four shows the sometimes quite warm-coloured mass, probably 'made' by the fairly common Grey Sea Slug (Aeolidia papillosa).
So we need some opinion from the Marine team. Please.
Main navigation