Mystery Caterpillars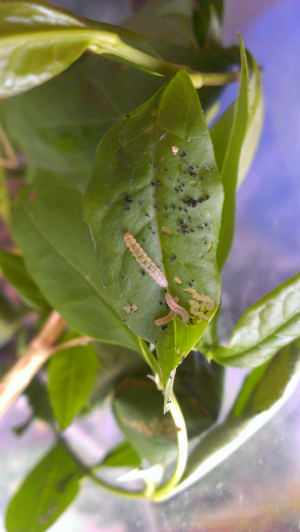 Observation - Mystery Caterpillars - UK and Ireland. Description: I regularly pick privet from the local park for my stick insects. I have just noticed an abundance of caterpillars in the vivarium- I wash the plants before they go in but obviously didn't notice any eggs this time. The second picture shows a leaf they
I regularly pick privet from the local park for my stick insects. I have just noticed an abundance of caterpillars in the vivarium- I wash the plants before they go in but obviously didn't notice any eggs this time.

The second picture shows a leaf they have eaten and their faecal deposits.

Can anyone identify these for me?
For some idea of scale the privet leaf in the picture is 3/4 the size of a mature leaf.
Main navigation