Parasitic fungi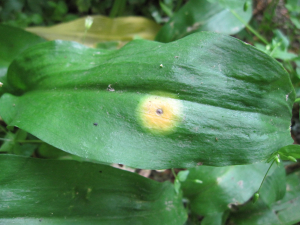 Observation - Parasitic fungi - UK and Ireland. Description: Sorry the photos aren't sharper but does anyone have any idea what this is, embedded in or growing on a Ramsons leaf? The 3rd photo is of the underside of the leaf and the whole yellow patch is about 10mm in diameter. NB. (15/06/2013) After the addi
Sorry the photos aren't sharper but does anyone have any idea what this is, embedded in or growing on a Ramsons leaf?

The 3rd photo is of the underside of the leaf and the whole yellow patch is about 10mm in diameter.

NB. (15/06/2013) After the addition of a separate post and an interaction, this post now relates purely to the brown powdery dots on the underside of the Ramsons leaf and not the yellow mark as a whole.
Main navigation