maybe a garden plant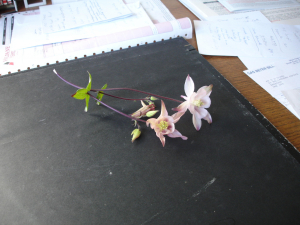 Observation - maybe a garden plant - UK and Ireland. Description: This plant was growing at the edge of a garden but in an uncultivated area next to a pavement. It has five hollow 'tubes' around a central group of stamens, and five petals in a star shape, and long projections at the back. The small triple leaves are
This plant was growing at the edge of a garden but in an uncultivated area next to a pavement.
It has five hollow 'tubes' around a central group of stamens, and five petals in a star shape, and long projections at the back.
The small triple leaves are away from the flower head.
Main navigation