Gilia (was unknown plant) (revisIted)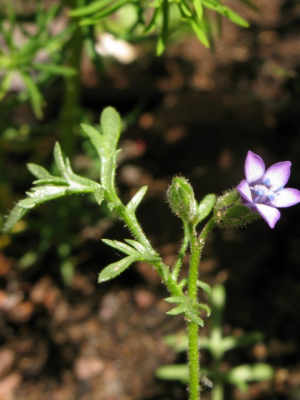 Observation - Gilia (was unknown plant) (revisIted) - UK and Ireland. Description: A small (few inches high) presumed annual growing in a rockery at Ness Botanic Gardens (I saw it last year but didn't manage to get a usable photograph). Flowers actinomorphic, pentamerous, sympetalous, ~5mm across, sepals 5?, free?, glandular hairy, p
A small (few inches high) presumed annual growing in a rockery at Ness Botanic Gardens (I saw it last year but didn't manage to get a usable photograph).

Flowers actinomorphic, pentamerous, sympetalous, ~5mm across, sepals 5?, free?, glandular hairy, petals 5, blue-purple, stamens 5, adnate/connate to the petals, anthers blue, style 1, stigmas 3, white. Leaves irregularly bipinnately lobed.

05Jun2015: Still present on 3rd June 2015 (two photos added - I think that the small forget-me-not to be seen is a depauperate M. arvensis).
Main navigation