Currant galls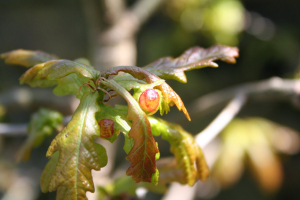 Observation - Currant galls - UK and Ireland. Description: Currant galls on fresh oak leaves, housing the larvae. Caused by the sexual generation of this gall wasp. The agamic generation (all female) produce common spangle galls on the underside of the leaves later in the summer. These fall to the ground, overwi
Currant galls on fresh oak leaves, housing the larvae.
Caused by the sexual generation of this gall wasp. The agamic generation (all female) produce common spangle galls on the underside of the leaves later in the summer. These fall to the ground, overwinter and in early spring emerge to complete the cycle.

Currant galls can also appear on the male flowers.

Other species produce galls on leaves later in the year, or on buds.

Edit: error corrected 5/2014
Main navigation