Handkerchief Tree or Ghost Tree-Kew at Wakehurst Place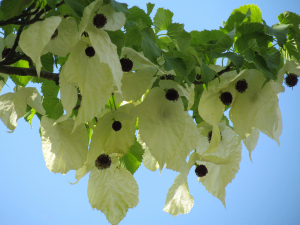 Observation - Handkerchief Tree or Ghost Tree-Kew at Wakehurst Place. Description: This tree was considered by the plant hunter E. H. Wilson to be the most 'beautiful and interesting of all trees of the north temperate flora'.In addition he likened the flowers to 'huge white butterflies'This specimen at Wakehurst was at it's best.A nati
This tree was considered by the plant hunter E. H. Wilson to be the most 'beautiful and interesting of all trees of the north temperate flora'.In addition he likened the flowers to 'huge white butterflies'This specimen at Wakehurst was at it's best.A native of
China.The var. Davidia involucrata var. vilmoriniana is the most commonly cultivated form.
Was placed in the Nyssaceae family, now in its own family, Davidiaceae. Simply gorgeous!