white collars on grass stems in an ancient meadow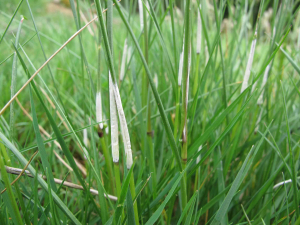 Observation - white collars on grass stems in an ancient meadow - UK and Ireland. Description: Quite a few clumps of grass on and around the meadow in Fir & Pond Woods are showing white collars around the stems. (IMG2444). These are not restricted to one sort of grass. I cannot tell whether these are of fungal or insect origin. The phot
Quite a few clumps of grass on and around the meadow in Fir & Pond Woods are showing "white collars" around the stems. (IMG2444).
These are not restricted to one sort of grass.
I cannot tell whether these are of fungal or insect origin.

The photo (grassfungus 1b) shows small yellow dots outside the white area.

And these can be seen in (DSCN0495b). ... low power.

I scrapped off a bit and stained it with Congo red ...x400 see (hpgrassJPEG....).

These outgrowths look fungal.

Thanks
Main navigation