Sea Mat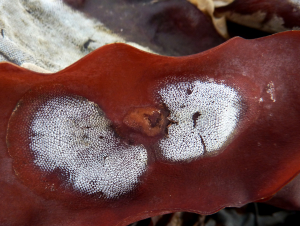 Observation - Sea Mat - UK and Ireland. Description: I am so used to finding the Sea Mat on dried seaweed (usually Laminaria hyperborean) in the strandline, that I'd not expected to find it on rock in a pool. I wonder if this (pics 3 & 4) is a living Bryzoa - bell-shaped, squarer cells. No spines, not 'hai
I am so used to finding the Sea Mat on dried seaweed (usually Laminaria hyperborean) in the strandline, that I'd not expected to find it on rock in a pool.
I wonder if this (pics 3 & 4) is a living Bryzoa - bell-shaped, squarer cells. No spines, not 'hairy'.
Underlying cells in final pics are elongated.
Main navigation