Dryopteris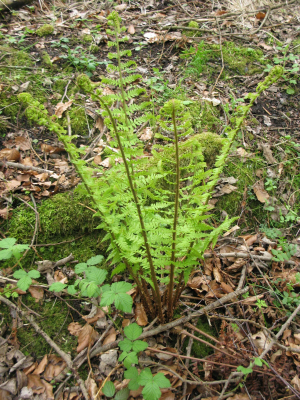 Observation - Dryopteris - UK and Ireland. Description: Fern apparently intermediate between D. filix-mas and D. affinis agg. The new frond have a yellowish-green color, contrasting with the grey cast of D. filix-mas at this stage, but less intense than that of D. affinis. T
Fern apparently intermediate between D. filix-mas and D. affinis agg. The new frond have a yellowish-green color, contrasting with the grey cast of D. filix-mas at this stage, but less intense than that of D. affinis. The scales are darker than those of D. filix-mas - I'd call the colour russet or chestnut.

The fronds are bipinnate-pinnatisect - in fact more dissected that is typical of D. filix-mas. The pinnae seem to have darker marks at the base of the rachillae.

There are plenty of D. filix-mas in the vicinity. I found a D. affinis agg. about 85 meters away.

The fronds felts as if they might be glandular, and I thought I could smell a "hay" scent in the vicinity, but it didn't seem to be associated with the fronds of this fern (and not only is this way out of range from D. aemula, but it's not a match morpholically.)

If you ignore the colour it looks rather like D. submontana (at least to my naive eyes), but the habitat (damp woodland on the side of an old railway cutting on Millstone Grit) is completely wrong.
Main navigation