Sea grape perhaps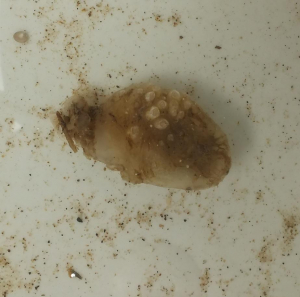 Observation - Sea grape perhaps - UK and Ireland. Description: Small jelly-like blob c2.5cm long. Seemed to haev the remains of a 'holdfast' at the left handend. When gently squeezed a small jet of water came out. Found by a three year old - great eyes! Didn't realise the white blobs were tiny barnacles until pic
Small jelly-like blob c2.5cm long. Seemed to haev the remains of a 'holdfast' at the left handend. When gently squeezed a small jet of water came out.
Found by a three year old - great eyes!

Didn't realise the white blobs were tiny barnacles until picture was downloaded - might compromise the ID?
Main navigation