Collared Dove, pair, Franklin Gardens, 2013-05-06 005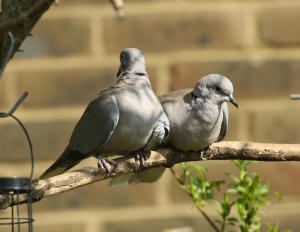 Observation - Collared Dove, pair, Franklin Gardens, 2013-05-06 005 - UK and Ireland. Description: Apparently taking lessons from The Exorcist (if you're old enough to remember that film - I saw it in 1974, in Cambridge...). It would be interesting to study to what extent various species can turn their heads. I suspect most would do quite well. This
Apparently taking lessons from The Exorcist (if you're old enough to remember that film - I saw it in 1974, in Cambridge...).
It would be interesting to study to what extent various species can turn their heads. I suspect most would do quite well.
This is a sperarate post from the previous one because they're about different behaviours.
Main navigation