Bee nest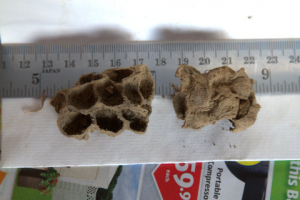 Observation - Bee nest - UK and Ireland. Description: Found in an unused beehive between roof and crown board. This was empty, but others are being used by bees that are slightly smaller than honey bee and similar shape/colour, but NOT honey bees. So far the bees have not been still enough to be able to p
Found in an unused beehive between roof and crown board. This was empty, but others are being used by bees that are slightly smaller than honey bee and similar shape/colour, but NOT honey bees.

So far the bees have not been still enough to be able to photograph.

Nest appears to be made out of mud. This bit broke when I removed the roof, in the photo the left half is the inner face, while the right is the outer.
Main navigation