Powdery tree fungus(?)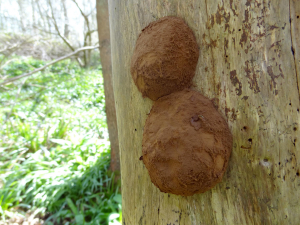 Observation - Powdery tree fungus(?) - UK and Ireland. Description: I'm assuming this is some kind of fungus. If lightly touched a dust would visibly emanate - which I'm assuming are spores. Reasonably solid, although had the texture of chocolate truffles covered in coco powder (excuse my complete lack of scientific ja
I'm assuming this is some kind of fungus.
If lightly touched a "dust" would visibly emanate - which I'm assuming are spores. Reasonably solid, although had the texture of chocolate truffles covered in coco powder (excuse my complete lack of scientific jargon here - but that's the best description I can give).

Was found growing on a dead tree in woodlands.
Main navigation