Evergreen shrub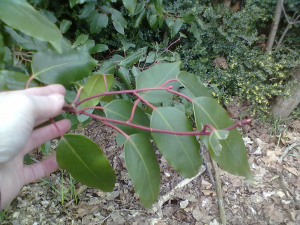 Observation - Evergreen shrub. Description: Formal parkland, lakeside: massed plantings of sprawling evergreen shrubs/small trees. Leaves alternate with red petioles, channeled: red shiny buds. Fairly lax habit, branches sweeping down to ground level, overall height about 6-7' but as it's a l
Formal parkland, lakeside: massed plantings of sprawling evergreen shrubs/small trees.

Leaves alternate with red petioles, channeled: red shiny buds.

Fairly lax habit, branches sweeping down to ground level, overall height about 6-7' but as it's a lakeside walk, they might be managed.

Leaves quite leathery, pointed tip, toothed margins: shiny green above, paler matte green below. Secondary veins crisp, neat, opposite; margins slightly wavy. Rounded at base.