Queen 27th April 2013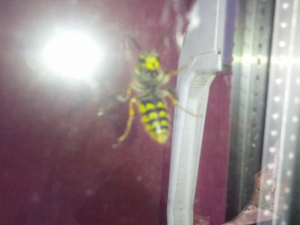 Observation - Queen 27th April 2013. Description: Every year I get a queen in the bedroom window, so I thought I'd add them properly and get an id. Photos are taken from outside, hence the reflection and mostly pictures of her tummy, not back. Very placid, seems to be waking up. She moved around quite
Every year I get a queen in the bedroom window, so I thought I'd add them properly and get an id.
Photos are taken from outside, hence the reflection and mostly pictures of her tummy, not back.
Very placid, seems to be waking up. She moved around quite a bit whilst I was trying to photograph her, but seems to have worn herself out and is sitting there snoozing even though I managed to open the window so she can get out.

I'd mostly just like to know what she is as I get them every single year. I don't get wasp nests nearby enough that I'd notice them, though I don't go out in the back garden much. I get the occasional hornet hanging around. I did look at identification pages, and thought her markings look more waspish than hornety, but her face is very yellow. I have no experience in this field whatsoever though.