Unidentified Pellets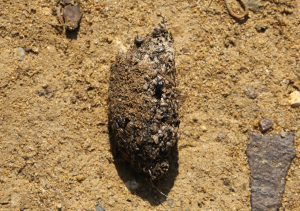 Observation - Unidentified Pellets - UK and Ireland. Description: I don't know what to make of these. I attach them as found, in situe. Nearest tree about twenty yards away, though there's a bench nearby. Looking at the one that was crushed, it seems to contain a lot of woodlice, amongst other stuff. I has to be a
I don't know what to make of these. I attach them as found, in situe. Nearest tree about twenty yards away, though there's a bench nearby.
Looking at the one that was crushed, it seems to contain a lot of woodlice, amongst other stuff. I has to be a bird, but the question is, what?
The length of the whole one is about 32mm, the width 18mm.
Main navigation