Ash tree in spring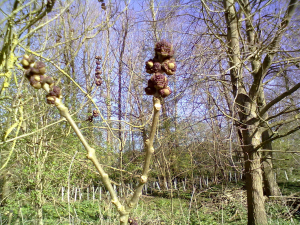 Observation - Ash tree in spring - UK and Ireland. Description: It's that time of spring when Ash stops being one of the easiest trees to ID in winter. The sooty black buds are opening, and we get these knobbly purple excrescences, which then turn into fluffy yellow-ish flowers. In a few weeks we'll be back to
It's that time of spring when Ash stops being one of the easiest trees to ID in winter.

The sooty black buds are opening, and we get these knobbly purple excrescences, which then turn into fluffy yellow-ish flowers.

In a few weeks we'll be back to easy-to-ID pinnate leaves, but just for now, this familiar tree can give you a bit of a shock.
Main navigation