Feral Ferret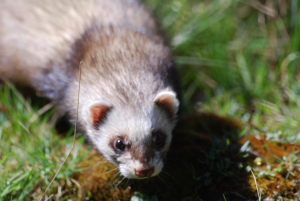 Observation - Feral Ferret - UK and Ireland. Description: Flipping feral ferret fair fractured my day. Walking away from inspecting a Long-tailed Tit's nest (4 cold) and I spotted something move between tufts of grass a little way away. Slowly approached and saw a small mammal peering back at me; thought I w
Flipping feral ferret fair fractured my day.

Walking away from inspecting a Long-tailed Tit's nest (4 cold) and I spotted something move between tufts of grass a little way away. Slowly approached and saw a small mammal peering back at me; thought I was going to have one of those magical moments when as bold as brass out trots this ferret. Obviously habituated to humans with no fear he walks up and starts sniffing about and wanting attention. At this point I feel it may have been recently lost or abandoned so I start to phone a vet friend of mine for some advice, maybe it's microchipped?

'He', I've decided it was a he, felt he had enough fun (or perhaps wanted more) and did the classic tv thing of sinking his teeth into me and hanging on – several times. Eventually he just trots off, bold as brass. My thumb is after I have staunched the not inconsiderable flow of blood.

Either he has been dumped out here on the common or someone was rabbeting and lost him.
Main navigation