Common wasp (Vespula vulgaris)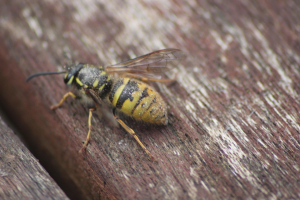 Observation - Common wasp (Vespula vulgaris). Description: Found traipsing across tools on workbench. I presume that this is a queen just emerging from hibernation. The markings on the back seem to be distinctive. The queens seem to be the only ones to over-winter so must have mated last year and now be ready t
Found traipsing across tools on workbench. I presume that this is a queen just emerging from hibernation.
The markings on the back seem to be distinctive.
The queens seem to be the only ones to over-winter so must have mated last year and now be ready to start a new colony.