unknown tree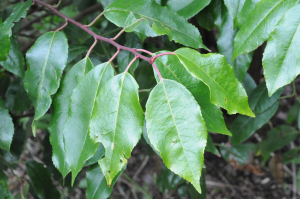 Observation - unknown tree - UK and Ireland. Description: May be cultivated and/or garden escape but was growing in ancient mixed woodland, some specimens on a steep slope, one right by the side of a river, this one in a landscaped area so may be planted. As a small tree, quite a neat, broad cone in shape (may
May be cultivated and/or garden escape but was growing in ancient mixed woodland, some specimens on a steep slope, one right by the side of a river, this one in a landscaped area so may be planted.
As a small tree, quite a neat, broad cone in shape (may have been pruned, I don't know) and the large tree (about 10m) was leaning distinctly over the river after having fallen so hard to tell its shape.
Leaves have no particular smell when crushed.
Main navigation