Monterey Pine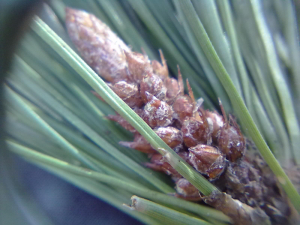 Observation - Monterey Pine - UK and Ireland. Description: Massive conifer, cones (which are huge) clearly visible even on branches way above the path. Dark grey bark, deeply fissured: needles in threes, quite long (4-5) with tiny teeth on the margins, visible with hand lens. Cones distinctively lop-sided
Massive conifer, cones (which are huge) clearly visible even on branches way above the path.

Dark grey bark, deeply fissured: needles in threes, quite long (4-5") with tiny teeth on the margins, visible with hand lens.

Cones distinctively lop-sided at the base, stay on the tree for years: can sometimed be found on fallen branches.

Terminal buds tan, scurfy, and cylindrical, with a pointed tip surrounded by a base of rounded knobbly buds.
Main navigation