Chinese Fir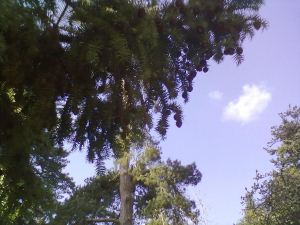 Observation - Chinese Fir. Description: Massive conifer, foliage sweeping right down to the ground, looks furry but was sharply pointed. Interesting leaves, flat and clasping the twig, with two shiny silvery bands on top and bottom. Terminal buds of the male flowers were just about to o
Massive conifer, foliage sweeping right down to the ground, looks furry but was sharply pointed.

Interesting leaves, flat and clasping the twig, with two shiny silvery bands on top and bottom.

Terminal buds of the male flowers were just about to open.

Cones were surprisingly small for such a large tree, with reflexed scales, very pretty little "roses".