Stone Pine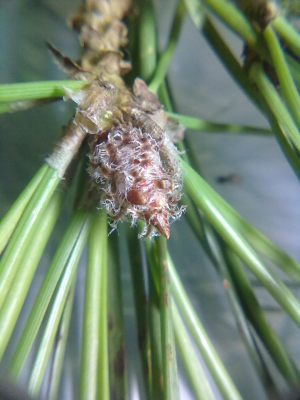 Observation - Stone Pine - UK and Ireland. Description: Ornamental planting in a front garden: 2-needled pine but with huge hefty cones: as big as those of Monterey Pine, but flat-bottomed, not asymmetrical. The cone scales have fine lines radiating outwards from the central boss: not four, as you would exp
Ornamental planting in a front garden: 2-needled pine but with huge hefty cones: as big as those of Monterey Pine, but flat-bottomed, not asymmetrical.

The cone scales have fine lines radiating outwards from the central boss: not four, as you would expect, but five.

Needles around 4" long, margins entire, clear green, and quite sparse on the branches.

Branch arrangement whorled, long areas of clear stem very rough and spiky where fascicle cushions remain.

Bark in roughly rounded plates.

Apologies for quality of photos, wrong camera!

Apparently the seeds ("pine nuts") are edible, but having somewhat over-cooked the cone to get it to open, I didn't fancy trying them.
Main navigation