Scots Pine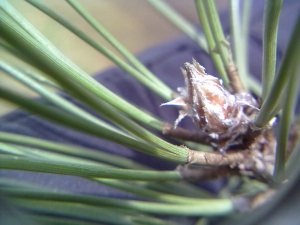 Observation - Scots Pine - UK and Ireland. Description: The commonest two-needled pine? Usually quite easy to ID as the bark on the upper part of the trunk is usually distinctively orangey-red. Check around the base for fallen foliage: needles are in pairs, and are short: less than 3 (7cms), and are of
The commonest two-needled pine?

Usually quite easy to ID as the bark on the upper part of the trunk is usually distinctively orangey-red.

Check around the base for fallen foliage: needles are in pairs, and are short: less than 3" (7cms), and are often glaucous (blue-ish).

The needles don't break cleanly - you get a short "beard" of white fibres.
Main navigation