Douglas Fir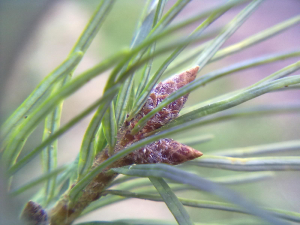 Observation - Douglas Fir - UK and Ireland. Description: Very large dark-green conifer: leaves flat, single, with twisted base so they give the effect of there being a parting underneath the twig. Buds rather like Beech: narrow, sharply pointed, many scales. Often only one terminal bud. Cones are possib
Very large dark-green conifer: leaves flat, single, with twisted base so they give the effect of there being a "parting" underneath the twig.

Buds rather like Beech: narrow, sharply pointed, many scales. Often only one terminal bud.

Cones are possibly the easiest of the conifers to ID: 4" long (10cms )with long forked bracts.

Bark with resin blisters.

Grown as a crop, usually in plantations.
Main navigation