Signal Crayfish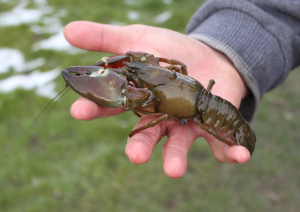 Observation - Signal Crayfish - UK and Ireland. Description: This is the introduced American crayfish that has caused so much harm to our native species. Quite a large one, too. Unfortunately it looks like this means the end of the British crayfish in this river - it was caught less than a mile from the source o
This is the introduced American crayfish that has caused so much harm to our native species. Quite a large one, too.
Unfortunately it looks like this means the end of the British crayfish in this river - it was caught less than a mile from the source of this chalk stream.
Another example of a species introduced for financial advantage turning out to be a disaster. I'd like to ask the idiots who brought it to Britain what the hell they were thinking of. I hope they feel really, really guilty.
Main navigation