Blaniulids (cont.)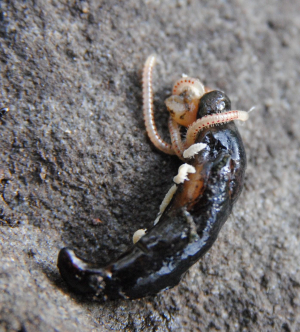 Observation - Blaniulids (cont.) - UK and Ireland. Description: see Comment. Image 3: 25/01/2012; Image 4: 17/02/2011 In Images 1 and 2, Blaniulids appear to be attacking a slug and in Image 3 they are aggregated around some decaying material which could be the remains of a slug. These images continue previous posts
see Comment.
Image 3: 25/01/2012; Image 4: 17/02/2011
In Images 1 and 2, Blaniulids appear to be attacking a slug and in Image 3 they are aggregated around some decaying material which could be the remains of a slug. These images continue previous posts of mine which include examples of Blaniulids attacking a worm and, less certainly, woodlice*. Image 4 is a more convincing supplement to the last observation.
*see iSpot ("Blaniulid ", 01/02/2011 and "Two millipedes" 09/11/2012).
Main navigation