gruesome crime scene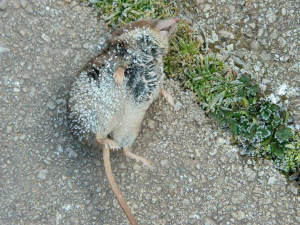 Observation - gruesome crime scene - UK and Ireland. Description: Yesterday, these two shrews were found approx 60cm apart. Other than a puncture wound on one - see photo - they were intact. The internal organs were found close by - all can be seen as found on the garden path. Today, another internal organ was found
Yesterday, these two shrews were found approx 60cm apart. Other than a puncture wound on one - see photo - they were intact. The internal organs were found close by - all can be seen as found on the garden path.

Today, another internal organ was found in the same place. The previous two had been disposed of!

What type of shrew are they? Was a third consumed apart from its organs?

What might have been responsible?

We don't have a cat and nearest neighbours are 1/2 mile away.
Main navigation