Coprinus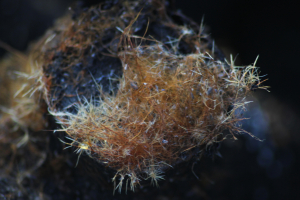 Observation - Coprinus. Description: This stuff, which looks rather like a brown moss, was growing on the undersides of old maple logs. There seem to be some fruiting bodies at the end of a couple of the threads at the top right of the first photo. The specimen in the first photo is roughly
This stuff, which looks rather like a brown moss, was growing on the undersides of old maple logs. There seem to be some fruiting bodies at the end of a couple of the threads at the top right of the first photo. The specimen in the first photo is roughly 4cm wide. Any suggestions for ID, please?

Seems to be Coprinus. Either C. domesticus or C. radians which need microscopic examination of the spores for separation.

Thanks to Flaxton for the pointer.