Immigrant lady two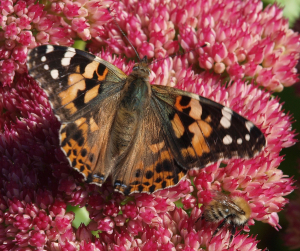 Observation - Immigrant lady two - UK and Ireland. Description: In the recent post http://www.ispot.org.uk/node/316478 I was corrected by Richard Comont and I am most grateful. Here then is another attempt (it HAS to be more successful) to show the Painted Lady in Orkney in 2009. 2009 was an exceptional year for thi
In the recent post http://www.ispot.org.uk/node/316478 I was corrected by Richard Comont and I am most grateful.
Here then is another attempt (it HAS to be more successful) to show the Painted Lady in Orkney in 2009.
2009 was an exceptional year for this wonderful, strong flying, migrant.
I have posted the Red Admiral (Vanessa atalanta) beside it to show the not very subtle differences!
Main navigation