White tadpole? (probably not)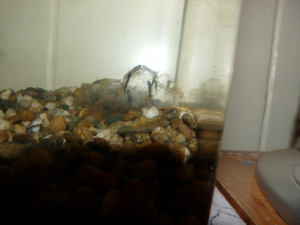 Observation - White tadpole? (probably not) - UK and Ireland. Description: Noticed a strange creature in a tank being used to keep frog spawn in. Spawn taken from a pond in mid wales. It is white, with black eyes, and to me looks like a white tadpole? What is it really and should it be put back from where it came? In photo
Noticed a strange creature in a tank being used to keep frog spawn in. Spawn taken from a pond in mid wales.
It is white, with black eyes, and to me looks like a white tadpole?
What is it really and should it be put back from where it came?

In photo 1 it is on the right hand side, resting on the gravel.

In photo 2 imagine a diagonal line going from top left to bottom right, the white tadpole(?) is on that line about 1/3 from the bottom right.

I appreciate its not going to be easy for people to try and spot a white blob on that pale gravel but would be grateful if anyone could help.
Main navigation