Dogwood in Winter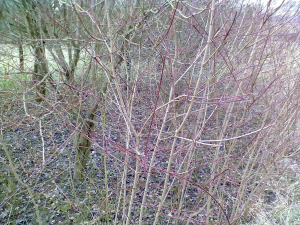 Observation - Dogwood in Winter - UK and Ireland. Description: Normally easy to spot, with the bright red stems: less easy when not properly pruned, as seen here. Previous year's growth is very red, the rest is just dull brown. Often found on roadside plantings. Buds are opposite, and each pair is at right
Normally easy to spot, with the bright red stems: less easy when not properly pruned, as seen here.

Previous year's growth is very red, the rest is just dull brown.

Often found on roadside plantings.

Buds are opposite, and each pair is at right angles to the next pair (decussate) - and the buds themselves are adpressed, ie lying closely along the stem, as per the second photo.
Main navigation