Wayfaring Tree in Winter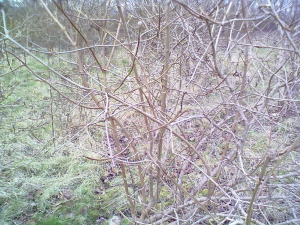 Observation - Wayfaring Tree in Winter - UK and Ireland. Description: Definitely Wayfaring Tree this time! Small, shrubby thing, tangled untidy growth, bark silvery grey/pale brown, often found in hedgerows, here rather artificially growing in a small copse. Like many Viburnum, twigs and buds covered in scurf made
Definitely Wayfaring Tree this time!

Small, shrubby thing, tangled untidy growth, bark silvery grey/pale brown, often found in hedgerows, here rather artificially growing in a small copse.

Like many Viburnum, twigs and buds covered in "scurf" made of tiny starfish shaped hairs ("stellate" if you want the correct botanical term) which can be seen with a good hand lens. We thought it was lichen, but on closer inspection, actual hairs could be seen.

Twigs/branches are somewhat "flattened" or "grooved", especially towards the tips, rather like V. opulus, Guelder Rose.
Main navigation