Grunting goose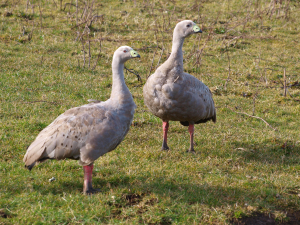 Observation - Grunting goose. Description: It was surprising to find these in a field in the wilds of Orkney. Obvioulsy they were not wild but there were Grey-lag nearby. I was difficult to identify but I recalled the awful grunting sound they made so tried Grunting Goose with Mr Google - hey pr
It was surprising to find these in a field in the wilds of Orkney.
Obvioulsy they were not wild but there were Grey-lag nearby.
I was difficult to identify but I recalled the awful grunting sound they made so tried Grunting Goose with Mr Google - hey presto!
I think this is a new bird for iSpot - VERY rare then!