Common Elder in spring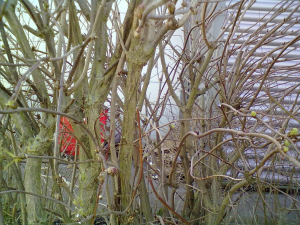 Observation - Common Elder in spring - UK and Ireland. Description: Normally seen in hedgerows, can make a small tree, often multi-stemmed: in this case, managed as an annually-pruned shrub, with a framework of stouter stems and fresh growth each year. Easily identified by the smell of the bark (unpleasant) if a twig i
Normally seen in hedgerows, can make a small tree, often multi-stemmed: in this case, managed as an annually-pruned shrub, with a framework of stouter stems and fresh growth each year.

Easily identified by the smell of the bark (unpleasant) if a twig is snapped.

Buds alternate, opening from ragged purple buds into either foliage (pic lower left) or into these odd-looking cream-coloured cauliflowers, which become flowers.

Looks like a good crop this summer!
Main navigation