Wild Service Tree in winter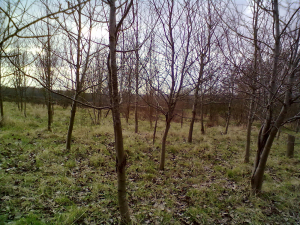 Observation - Wild Service Tree in winter. Description: Edit 18/2/13: change incorrect title. Stand of smallish trees: they all appear to have been grafted, I don't know if this was due to short supply - maybe the arboretum could only find grafted stock? Certainly I have to say that I have never yet seen th
Edit 18/2/13: change incorrect title.

Stand of smallish trees: they all appear to have been grafted, I don't know if this was due to short supply - maybe the arboretum could only find grafted stock? Certainly I have to say that I have never yet seen this tree "in the wild" so, despite the grafts, I was pleased to have a chance to observe it.

Branches are quite untidy, with many of the buds on short stalks. Bud colour: according to the Woodland Trust, buds are "round and bright green like peas." but as you can see, the scale edges are red, so when the buds are small, they can appear to be dark red. And they are now changing shape to become quite pointed.

Leaves are rather like maple in shape, but of course the buds are not opposite.