Silver Birch in winter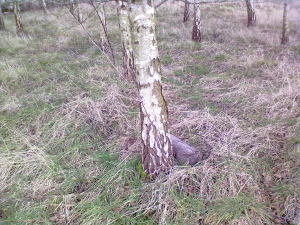 Observation - Silver Birch in winter - UK and Ireland. Description: Smallish tree, sturdy trunk with silver-white bark, easily recognised by the black diamond-shaped markings on the lower part of the trunk. Easy to confuse with Downy Birch (B. pubescens) but a key difference is to feel the very ends of the twigs: on th
Smallish tree, sturdy trunk with silver-white bark, easily recognised by the black diamond-shaped markings on the lower part of the trunk.

Easy to confuse with Downy Birch (B. pubescens) but a key difference is to feel the very ends of the twigs: on this one, the bark is smooth, rather than downy, and has numerous warts, which you can both see and feel as small bumps on the twig.

Check out my close-up, taken with my camera phone through my hand-lens. Hah! Who needs an expensive camera with macro!!
Main navigation