Downy Birch in winter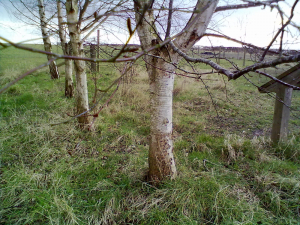 Observation - Downy Birch in winter - UK and Ireland. Description: Not easy at first glance to differentiate between this and the usual Birch, Silver Birch (Betula pendula). But if you check the bark at the base of the trunk, it had much less of the diamond-shaped patterning. The real difference is to check the e
Not easy at first glance to differentiate between this and the "usual" Birch, Silver Birch (Betula pendula).

But if you check the bark at the base of the trunk, it had much less of the diamond-shaped patterning.

The real difference is to check the ends of the twigs: here, the bark is downy (think pubescent="bum-fluff") and homogenous - no white warts to be seen or felt.

Sorry, no close-up of the twigs on this one - will do better on the next one.
Main navigation