Hen Harrier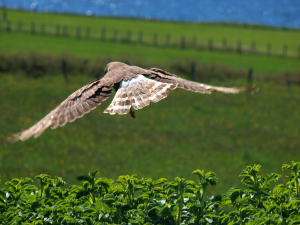 Observation - Hen Harrier - UK and Ireland. Description: I am lucky. I can sit in the sunlounge at home and observe the Hen Harrier's antics. Both male and female quarter the hedgerow and have caught young rabbits on the lawn. The bird simply appears, silently, progressing along the hedge, head down for the un
I am lucky. I can sit in the sunlounge at home and observe the Hen Harrier's antics. Both male and female quarter the hedgerow and have caught young rabbits on the lawn.
The bird simply appears, silently, progressing along the hedge, head down for the unwary blackbird. She hops sides, turns away, comes back, pretends to leave - doesn't.
These pictures were taken in May, through double glazing. The procedure began again this morning and suggests they are 'on territory' again.
Main navigation