Sparrowhawk (Accipter nisus) [Male]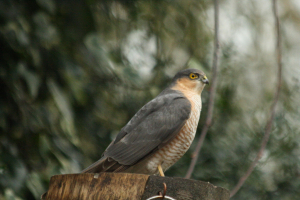 Observation - Sparrowhawk (Accipter nisus) [Male] - UK and Ireland. Description: Very lucky to catch this one. I was sat down reviewing some earlier photo's, I looked up and he was sat on top of one of the bird tables, I say He because the males have blue-grey upperparts with pale underparts that are strongly barred brownish, while
Very lucky to catch this one. I was sat down reviewing some earlier photo's, I looked up and he was sat on top of one of the bird tables, I say "He" because the males have blue-grey upperparts with pale underparts that are strongly barred brownish, while the female's have grey-brown uppers and paler/whiter underparts with a finer-darker barring. She is also larger than he.
Camera already in hand, I managed to get 27 half decent shots away before he flew off.
Strangely, all of the other birds disappeared while he was about! Not your everyday garden guest.
Main navigation